New Shorai Lightweight Batteries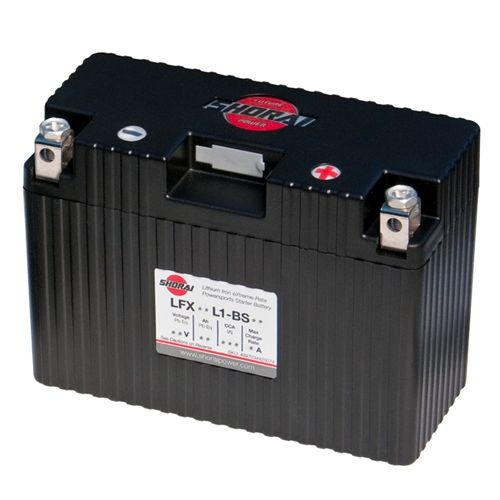 Unlike most other Lithium Iron batteries made from off the shelf cylindrical A123 batteries cells which were originally intended for low-rate tool applications. Shorai has created a battery like no other with PRISMATIC cells, delivering more energy faster, with less weight and with less damage to the battery per start cycle than any other brand or technology
Shorai Lithium Iron LiFePO4 Battery LFX09L2-BS12
$109
for 2 and 3-cylinder engines up to 600cc or 750cc 4-cylinder with original compression and stock stators.
Voltage (V):12
A/Hr PbEq:
9
Cranking CCA (A):
135
Weight (lbs.):
1.23
Max Charge (A): 9
Shorai Lithium Iron LiFePO4 Battery LFX14A1-BS12
$153
Stock
engines 600 cc twins to 1000cc with stock stators and compression as well as Triumph 675. Also recommended for modified engines under 750cc as well

.
Voltage (V):12
A/Hr PbEq:14
Cranking CCA (A):210
Weight (lbs.):1.83
Max Charge (A):14
Shorai Lithium Iron LiFePO4 Battery LFX18L1-BS12
$186
For engines greater than 1100cc with stock stators or difficult to start highly modified 2 cylinder engines larger than 800cc or highly modified 1000cc or larger 4 cylinder engines.
Voltage (V):12
A/Hr PbEq:18
Cranking CCA (A):270
Weight (lbs.):2.12
Max Charge (A):18
Shorai exclusive eXtreme-rate LFX lithium technology
Industry-leading two year warranty!
· No more dead batteries. Holds charge for one year without maintenance
· Ultra-light. One fifth the weight of lead-acid batteries on average
· Twice to four times the service life of lead-acid batteries
· Drop-in replacement for your OEM battery
· Military spec Carbon Fiber Composite Case
· Faster cranking for better starts
· Super-fast recharge rate
· SAFE - No explosive gasses during charge, no lead, no acid
· Environmentally friendly, just discharge and dispose
· Japanese engineering and components
*
SHORAI
battery models are bike specific. Please use the application chart on our website or
Click Here
to make sure the battery will fit.
Although the batteries are smaller than original, it is important to order a battery with the correct polarity so the original cables will reach the battery posts.
*
Forum members:
register on our website for passwords to access discounts on most non sale items on the Motowheels website. Sign up under the log-in box inthe products section. Look for
Not a member?