Need help from the wire harness guro's
---
I purchased a HRC basic racer harness. I also relocated all my electronics to the motor and shortened tthe harness in the process. My problem is that I keep getting different codes to pop up. It started with the TP sensor and all 4 injectors. Then it was the TP sensor and the MAP sensor. Now it's just the TP sensor. But I realy didn't change anything for the codes to change but they did. Now I am just stuck with the TP sensor code.
If anybody has any idea of what could be going on PLEASE help I am open for any sugggestions as I am supposed to race this weekend. I am going to leave work early tomorrow and completely go over the whole wire harness but again I am open for any suggestions.
Thanks,
Mike P
you probally have aloose ground some where... make sure that the ground to the thermostat housing is plugged in... seriously
+1 on the loose ground, caused me problems in the past, LOTS of problems.
Can you tell me where the ground for the thermostate ends? Because that's the one I didn't do. I where it connect on the housing ut where does it go
Cannot help you with the HRC harness but on a stock SP2 it comes out of the 9P connector the ECT, the cam pulse generator, the neutral switch and the oil pressure switch are connected to. It's a green wire that needs to be grounded on the thermostat housing (tip: there are two conveniently located bolts holding it together) or wherever you put the ECT.
Senior Member
Join Date: Oct 2008
Location: MD
Posts: 135
yeah I'm curious as to the problem too. I was out all night last night helping Mike on this and was puzzled. It appeared that the grounds were good unless we were just flat out missing one. Want to see him get this thing fired up and running so he can race this weekend.
Another thing that popped into my mind right now.
How are ECU connections? A bad contact on the red/yellow wire on the ECU grey connector can cause a TPS code.
Thanks for the ideas. I am heading over to Dads now to try and figure it out. What really throws me off is that I got high voltage at the TPS 6.3 where service manual calls for 5.2
ok...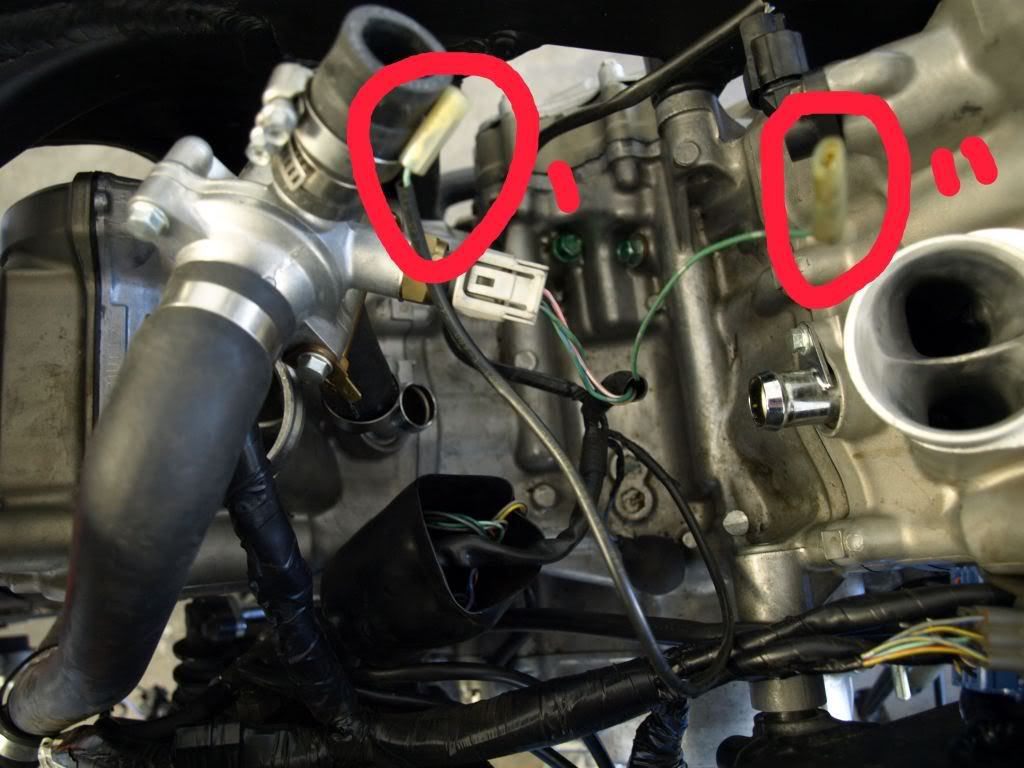 number II in the picture gets connected to the tab at the bottom bolt shown on the thermostat housing...
Number 1 is the neutral safety thing- under the shift shaft.
---

To view links or images in signatures your post count must be 0 or greater. You currently have 0 posts.


Official Supplier to Yoshimura Suzuki, Team M4 Monster Energy Suzuki, Celtic Racing, Orient Express, KTM North America, and Patriot Racing.
Thanks for the help but after tearing the bike down 5 times, taking all the tape of the harness, tracing the harness out 10 times and about 8 hours of beating my head on a brick wall I noticed that the prong on the ECU the sends the signal to the TPS was slightly bent and not making contact. So it looks like I will be at Summit Point this weekend!!!! Leaving Saturday afternoon and coming home Monday night after the races.
Glad you found the issue and it turned out to be very minor.
Seems this time I was the closest to the solution...